We recognize Rights of Nature as a key global legal movement, instrumental in preserving and restoring the health of Nature for future generations. United Nations of Nature seeks to amplify and create a more coordinated global effort to secure the Rights of Nature throughout the world and internationally.
Inspired by Indigenous belief systems, a global movement is currently underway to recognize that Nature is not mere property, but instead has inherent rights, such as a forest's right to health or a river's right to flow. Ecuador first made history by recognizing the Rights of Nature in its Constitution only 12 years ago. Now, Rights of Nature is recognized in at least 12 countries, including New Zealand, Colombia, Bangladesh, Mexico, and even the United States (where several tribes and local communities have recognized Nature's inherent rights). Rights of Nature is a new, Earth-centered approach for our legal system.
The Rights of Nature movement is growing at breakneck
speed, including through the following trends:


Governments at all levels are discussing new Rights of Nature laws, from the United Nations (e.g., the Harmony with Nature Initiative) to national governments (e.g., Chile) to states/regional governments (e.g., Oaxaca, Mexico) to tribal and community governments (e.g., the Nez Perce Tribe and Paris, France).


Courts are making landmark Rights of Nature Rulings (e.g., in Colombia).


Political groups are beginning to support Rights of Nature (e.g., European Parliament members and the DNC Climate Council recommendations (USA)).


Large environmental organizations are joining the Rights of Nature movement in support (e.g., the IUCN).


Law schools are beginning to teach courses on ecocentric law, including Rights of Nature, in the United States and internationally (e.g., Barry Law, Vermont Law).


A growing number of funders are interested in supporting the Rights of Nature as a solution to the environmental crisis that we have thus far been unable to solve.


VALUES
Innovation
We challenge existing legal and economic paradigms and support those replacing them with new, Earth-centered models.
Integrity
We believe to change the world, we ourselves have to be equitable, just, and transparent.
Accountability
We believe that developed countries must be held responsible for their role in catalyzing the majority of ecological devastation, and we must as individuals be accountable for our own environmental footprints.
Stewardship
We value the trust others place in us. We work responsibly, nurture relationships, and take action in the best interest of those we serve.
Empowerment
We work to empower the next generation of Earth advocates and to equip them with cutting-edge tools they need
to help save the planet.
Scalability
We believe we must scale our solutions throughout the world—locally, nationally, and internationally—in order to stabilize the environmental crisis.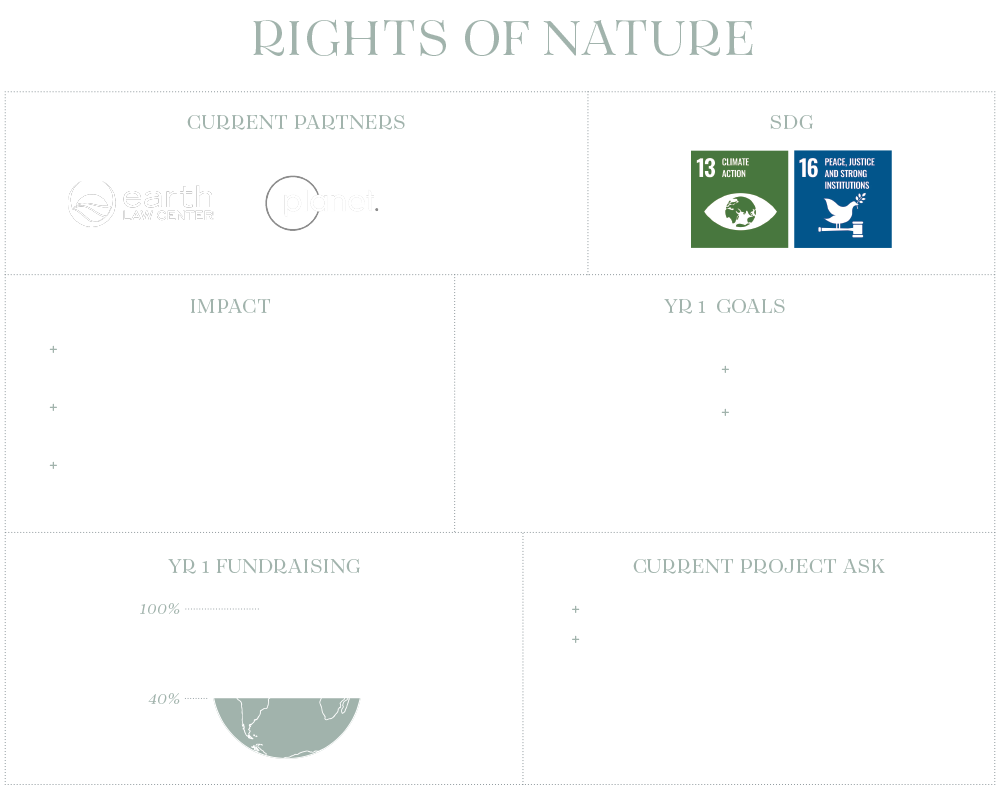 The time for bold action is now.